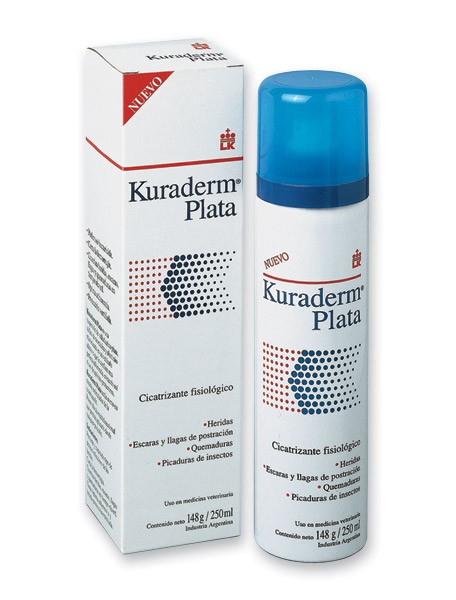 Kuraderm Plata


Spray
Presentation:
Spray containing 250 ml.
Physiological healing product. Powerful bactericidal. Corneal transplantation. Does not leave scar tissue. Accidental or surgical wounds.
Description:
Topical use, physiological healing product, antimicrobial, astringent and high adhesion haemostatic.
Formula:
Every 100 grams of concentrate contains: Silver Sulfadiazine 1,25 grams; Neomycin base (as Neomycin Sulphate base) 5,40 grams; Micronized Aluminium 8,33 grams and auxiliary agents q.s.
Propellant: butane-propane.
Indications:
Prevention and treatment of any infectious process of wounds. Haemostatic effect. Time-record healing action in wounds, sores, burns and ulcers. Excellent adhesion and ventilated protection.
Administration and dose:
Shake before applying.
After cleaning the area to be treated, apply a thin layer, at an approximate distance of 10 cm, ensuring penetration within the wound. In the case of deep pressure sores ensure the penetration of the product within the cavities.
Comparar