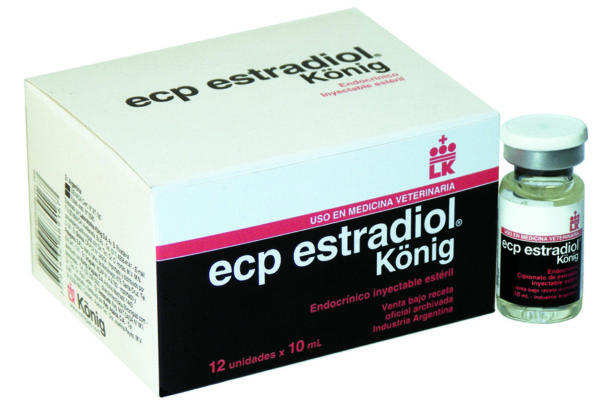 ECP Estradiol


Sterile Injectable Solution.
Presentation:
Vial containing 10 ml.
Minimum dose, long-acting estrogen.
Description:
Injectable hormonal for small and large animals.
Formula:
Every 100 ml contains: Estradiol Cypionate 0,2 grams; auxiliary agents and vehicle q.s.
Indications:
Offers all the functional activities of natural estrogens, with the advantage of a longer, uniform and deeper action.
Canines: false pregnancy, unwanted pregnancy, anestrous, expulsion of mummified fetus or placental remains. Replacement therapy in castrated bitches when urinary incontinence occurs. In male canines: prostatic hypertrophy and anal adenoma anal.
Cats: Anestrous in she-cats.
Administration and dose:
The application must be carried out exclusively by IM route.
Bitches: false pregnancy: Total 0,25 to 0,50 ml, to prevent the implantation of a fertilized egg in bitches recently mated, unwanted pregnancy: total 0,25 to 0,50 ml, treatment of anestrous or absence of heat period: total 0,25 to 0,50 ml, stimulation of the uterine expulsion of mummified fetus or placental remains and Pyometra: total 0,50 to 1 ml. Replacement therapy in castrated bitches when urinary incontinence occurs: total 0,25 to 0,50 ml.
Dogs Anal adenoma: total 0,125 to 0,25 ml. Prostatic hypertrophy: total 0,50 to 1 ml.
She-cats: anestrous: total 0,125 to 0,25 ml
Comparar