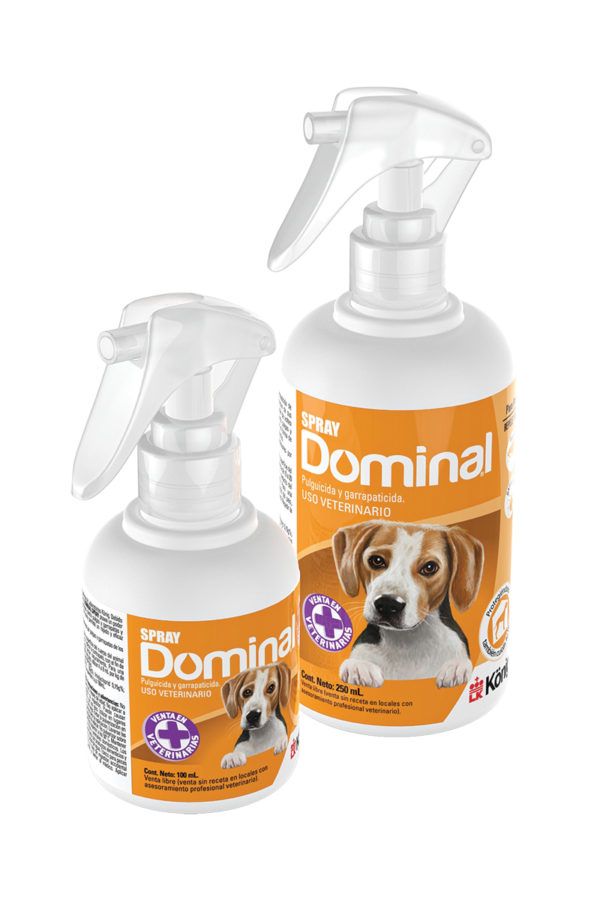 Dominal Spray

Topical Spray Solution
Presentation:
Flask with spraying valve containing 100 and 250 ml.
Flea elimination, tickcide pediculicide. Only product with genuine four-way effect against adult fleas, eggs, larvae and pupae.
Description:
Latest technology, external, spray, anti-parasitic for dogs. Owing to its special combination of active substances, it possesses unique dumping power, rendering protection during four weeks against fleas and tick. It also lacks toxicity.
Formula:
Every 100 ml contains: Imidacloprid 0,15 grams; Permethrin 1,00 gram; Fenoxicarb 0,06 grams; Piperonyl Butoxide 3 grams and auxiliary agents q.s.
Indications:
Treatment and prevention of flea and tick infestation in dogs.
Administration and dose:
Spray over all the animal's body, maintaining the bottle at a distance of 10 to 20 cm. Apply in opposite direction to hair growth to ensure that the liquid contacts the skin. Allow to dry naturally.
According to the length of the animal's hair use 4 to 8 ml (4 to 8 sprayings) per kilo of weight to achieve complete impregnation. Repeat the application every 30 days.
Do not apply on cats. Do not apply on puppies under two months old.
Comparar