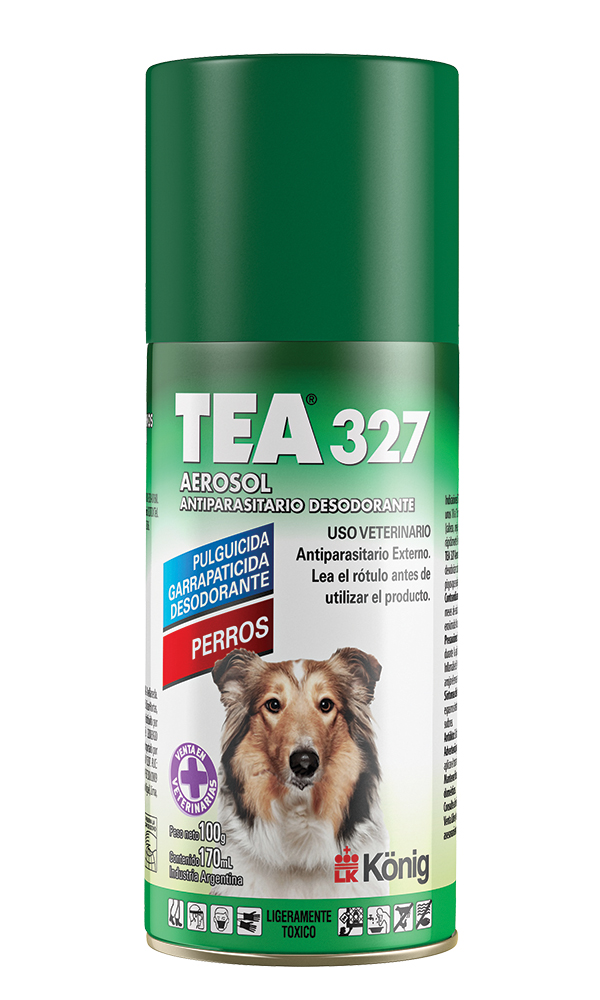 Tea 327 aerosol

Aerosol Spray
Presentation:
Aerosol Spray containing 100 g. /170 mL.
Flea control, tickcide, pediculicide. Deodorant for dogs.
Description:
External Antiparasitic Flea control, tickcide, pediculicide in spray form, with deodorant action, for dogs-
Formula:
Every 100 grams contains: Propoxur 2,26 grams and auxiliary agents q.s.
Indications:
Infestations on dogs caused by fleas, tick and lice.
Administration and dose:
Apply all over the animal's body, in opposite direction to its hair growth, maintaining the flask at a distance of 10 to15 cm. It is advisable to spray mainly on the most affected parts (head, ears, neck and armpits, etc.), every 7 days. In order to avoid re-infestations, its use is recommended in doghouses, kennels, etc.
Do not use on cats. Do not use on puppies under 2 months old. Do not use on animals with an injured skin. Do not use on lactating females.
Comparar