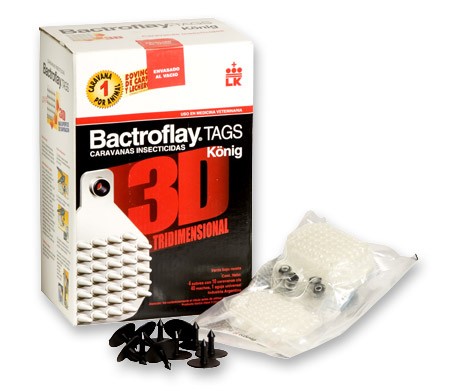 Bactroflay Tags

Plastic Tags and machos (pressure fasteners)
Presentación:
Box containing 40 tags and an equivalent number of pressure fasteners
External parasitic. Excellent residual power.
Description:
External parasitic without restriction in beef cattle and 48 hours withdrawal period in dairy cattle.
Formula:
Etión 40g %, excipient q.s. 100 g.
Indications:
Control and treatment of infestation caused by horn fly in beef and dairy bovines.
Administration and dose:
Apply one tag per animal. Replace the tags every 4 months. Once this period has elapsed, it is recommended to remove same in order to avoid eventual appearance of resistant populations, as the flies would be exposed to sub-lethal doses. Apply the tags using an application pincers/clamp which must be disinfected with an antiseptic solution previous to each use.
Waiting Period:
No restriction exists in beef cattle.
Withdrawal period in dairy cattle for Argentina: 48 hours.
Comparar