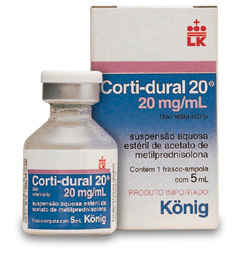 Corti-dural 20

Corticóide injetável
Presentación:
Frasco ampola de 5mL
Disculpa, pero esta entrada está disponible sólo en Portugués De Brasil. For the sake of viewer convenience, the content is shown below in the alternative language. You may click the link to switch the active language.
Descrição:
Corticóide injetável de ação antiinflamatória, duas vezes mais potente que a prednisolona e com menor atividade de retenção de água e sódio em comparação aos outros corticóides sintéticos.
Fórmula:
Cada mL contém:
Acetato de Metilprednisolona… 20,00 mg
Veículo estéril q.s.p………. 1,00 mL
Indicações:
Afecções músculo- esqueléticas; afecções alérgicas e infecções com toxicidade severa, através das vias intramuscular ou intrasinovial, em eqüinos, cães e gatos.
Administração e Posologia:
INJEçAO INTRAMUSCULAR
Cães: 0,1 mL (2 mg) a 6 mL (120 mg) conforme o peso do animal e a gravidade da afecçao
Gatos: 1/2 mL (10 mg) atè 1 mL (20 mg) conforme o peso do animal e a gravidade da afecçao
INJEçAO INTRASINOVIAL
Bovinos e Equinos: Dose média inicial: 6 mL (120 mg) variando de 2 a 12 mL (40 a 240 mg)
Cães: Dose média inicial: 1 mL (20 mg)