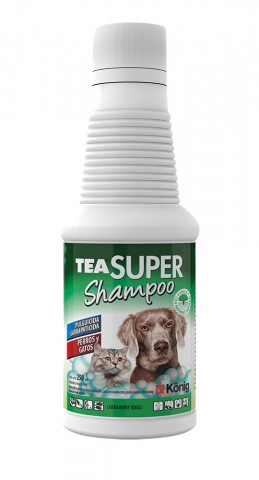 Tea Super Shampoo


Topical Solution
Presentación:
Flask containing 250 ml.
Adds beauty and sheen to pets' coats. Eliminates fleas and ticks. Indicated for canines and felines.
Description:
Ectoparasiticide and beauty shampoo, for canines.
Formula:
Every 100 ml contains: Natural Pyrethrins 0,1 grams, Piperonyl Butoxide 1 gram, Dicarboximide N-octyl-bicicloheptene 0,5 grams and auxiliary agents q.s.
Indications:
Flea control and tickcide. Dermatologic: its cosmetic base protects pets' skins, is deodorant and adds sheen to hair, maintaining an agreeable appearance for one week.
Administration and dose:
Wet animal´s hair with lukewarm water. Apply shampoo and massage until abundant lather is obtained, rinse and repeat the operation. On the second application allow to act for a few minutes before rinsing. Repeat bath every 7 days. Do not use on pups or kittens under 2 months old.
Comparar