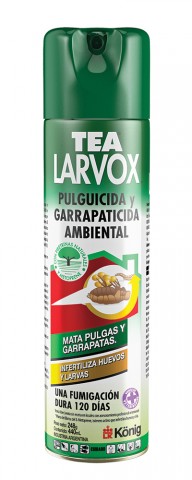 Aerosol Spray
Presentación:
Aerosol Spray containing 440 ml.
Environmental control: totally stops the flea cycle. Only product that acts against resistant strains.
Description:
Spray for environmental flea and tick control with ovicidal, larvicidal and adulticide action.
Formula:
Every 100 grams: Natural pyrethrins 0,10 grams, Methoprene 0,15 grams, Propoxur 1,00 gram, DDVP 0,46 grams, Piperonyl Butoxide 0,39 grams, auxiliary agents and propellant q.s..
Indications:
Environmental fleas and tick control throughout all the stages of their development.
Administration and dose:
Apply on dog kennels, carpets, cushions, floors, corners and skirting boards of places frequented by dogs and cats. After the application, allow two hours to elapse, then ventilate, vacuum floors and carpets in order to eliminate adult and young dead fleas.
For a more effective control, it is advisable to treat the animals with specific flea and tick controlling products (powders, baths, sprays, etc.). One single fumigation is active during 120 days.
Comparar