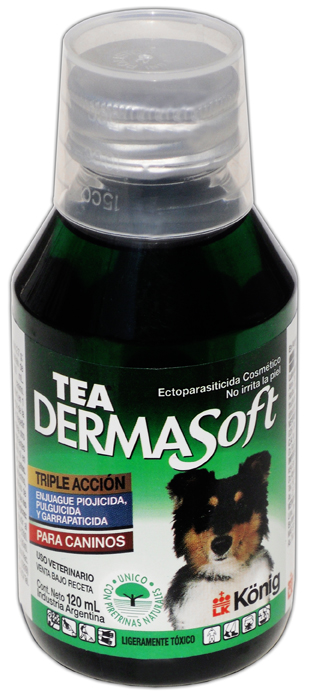 Tea Dermasoft

Emulsifiable Liquid
Presentación:
Flask with dosing measure, containing 120 ml.
Flea control and tickcide dermocompatible rinse, Non- allergenic.
Description:
Flea control rinse, tickcide and pediculicides with cosmetic properties, for canines.
Formula:
Every 100 mL contains: DDVP 2,7 grams, Cypermethrin 0,8 grams, auxiliary agents q.s.
Indications:
Infestations by ectoparasites in canines..
Administration and dose:
Dilute 15 ml in 1 liter of water. After the bath and using a sponge, apply the resulting emulsion all over the animal's body in opposite direction to its hair growth, Do not rinse and allow to dry naturally. Repeat every 7 days. Do not repeat the treatment before 7 days have elapsed. Do not apply the product on lactating bitches nor on pups under 3 months old. Do not apply on cats.