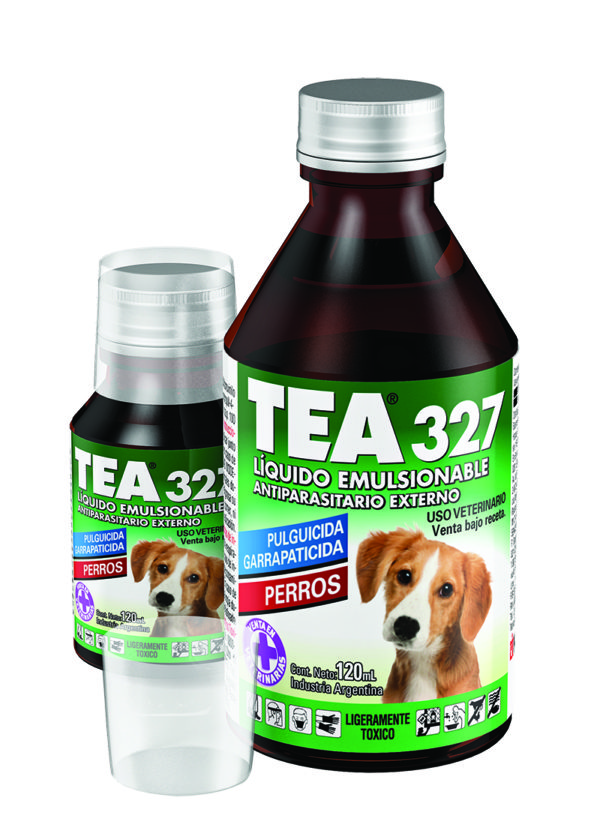 Tea 327 Emulsifiable Liquid

Emulsifiable Liquid
Presentación:
Flask containing 70 ml and 120 ml.
Flea control and Tickcide. Ideal for weekly bath.
Description:
Emulsifiable Liquid for Flea control, tickcide and pediculicide for dogs..
Formula:
Every 100 ml contain: DDVP 2,2 grams, Diazinón 2,0 grams and auxiliary agents q.s..
Indications:
Infestations from fleas, tick and lice in dogs.
Administration and dose:
Dilute a measure, 20 ml, in one liter of water. Subsequently to the regularl bath, apply the resulting emulsion rubbing the skin in a direction opposite to hair growth, using a sponge Avoid contact with the animal's eyes, nose and mouth. Allow to dry without rinsing. Repeat every 7 to 10 days or if new re-infestations occur
In order to control re-infestations in kennels and dog houses apply a dilution of 1 measure in two liters of water every ten days.
Do not use on cats, puppies under two months old, lactating females or if the animal's skin is too injured. Do not apply on wooden floors or rugs/carpets
Comparar