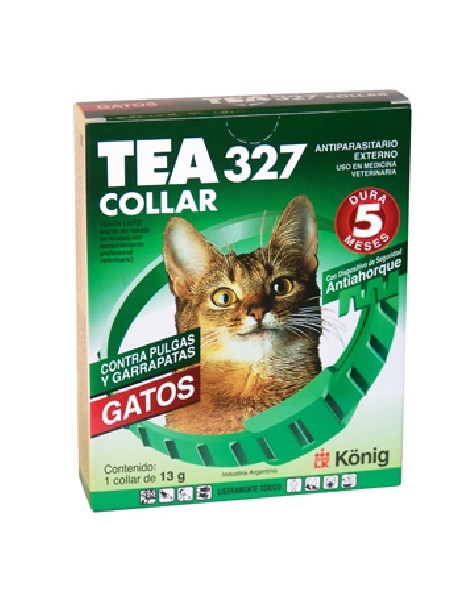 Tea 327 Cat Collar

Plastic matrix Collar
Presentación:
Tea 327 Collar for Cats: 13,0 grams Collar
Flea killer and pediculicide collar: duration 5 months.
Description:
Flea killer and pediculicide collar for cats.
Formula:
Every 100 grams contains: Propoxur 10 grams and auxiliary agents q.s.
Indications:
Prevention and control of infestations from fleas and all types of external parasites
Administration and dose:
Place the collar around the neck, being careful that it is neither too tight nor too loose and that it allows two fingers to go through, beneath same. Cut and discard the excess material. Revise the collar periodically for correct fit, especially in growing animals. Remove before weekly bath and put it back again once hair is dry. Change every 5 months.
Do not use on kittens under 5 months old.