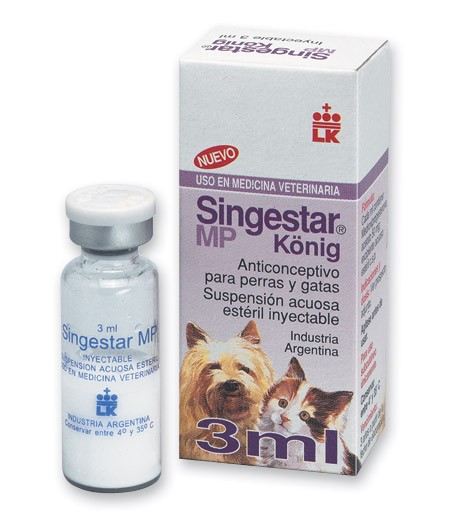 Singestar MP


Sterile microcrystalline Suspension
Presentación:
Vial containing 3 ml.
Minimum-Dose Maximum-Effect Contraceptive.
Description:
Injectable Suspension Contraceptive Progestagen for bitches and she-cats
Formula:
Every ml contains: Medroxyprogesterone Acetate 50 mg, aqueous excipient q.s.
Indications:
Prevention or annulment of heat in bitches and she-cats in anoestrus.
Administration and dose:
Previously to administration the animal's estral cycle condition should be determined, with an adequate anamnesis or through a vaginal smear.
Apply the prefilled syringe, total 1 ml per animal, (50 mg of Medroxiprogesterone totals) exclusively through SC route both for canines and felines. Apply only while in anoestrus phase.
In order to achieve an effective control in bitches, the application should be carried out 20 or 30 days before the estrus is expected. In this species repeat every 4 to 6 months according to the annual heat frequency.
In she-cats the administration will be carried out at 3 to 6 weeks after the heat or one week after the kittens have been weaned. In both cases the timing will correspond with the anoestrus stage.
It is necessary to take into consideration that, within a total domestic habitat, she-cats may not present an anoestrus period. Singestar tablets are indicated in these cases.