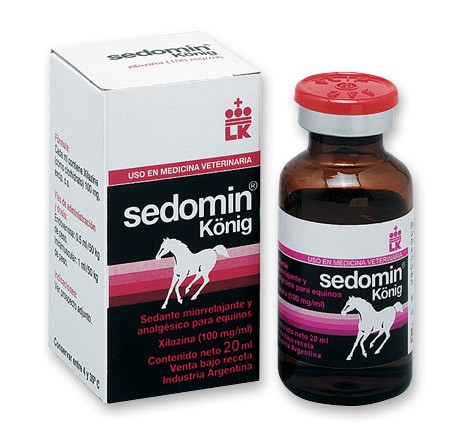 Sedomin

Sterile Injectable Solution
Presentación:
Vial containing 20 ml
Sedative, muscle relaxant, analgesic and anesthetic for equine and bovine cattle. Concentrated dose.
Description:
Choice injectable, sedative, muscle relaxant, analgesic, pre-anesthetic, for use on equines.
Formula:
Every ml contains: Xilazine (as an hydrochloride) 100 mg, auxiliary agents and sterile aqueous vehicle.q.s..
Indications:
Diagnostic procedures, pre-surgical sedation, orthopaedic and dental maneuvers, dental treatments, therapeutic management or manipulation, obstetric procedures, sedation and pain relief after surgeries, minor superficial surgeries and in major surgeries as pre-anesthetic or as a complement of local anesthesia.
Administration and dose:
Intramuscular: 1 to 2 mg/Kg. (1 to 2 ml of Sedomin every 100 Kg.)
Intravenous: 0,4 to 1 mg/Kg. (0,4 to 1 de Sedomín every100 Kg.)
Epidural: 0,17 to 0,22 mg/Kg.: for one 450-Kg horse. Prepare a 1% solution.
Sedative: the dose indicated may be applied by IV or IM route. The administration of the doses indicated causes sedation for a period of 1 to 2 hours with analgesia during the first 15 to 30 minutes.
Pre-anesthetic – local anesthesia: at the doses indicated for sedation together with procaine or lidocaine applied locally.
As pre-anesthetic – general parenteral or inhalatory anesthesia: the doses used are the same as those indicated by IV or IM route. Due to the additive effect of the central nervous system depression, in order to achieve an adequate level of surgical anesthesia only 1/2 to 1/3 of the dose of barbiturates should be administered.
Comparar