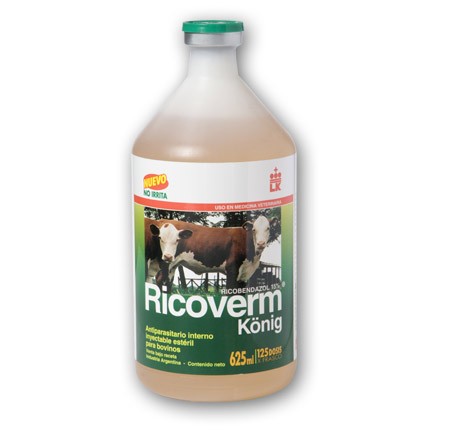 Ricoverm

Sterile Injectable Solution
Presentación:
Vial containing 150 ml and 625 ml.
Broad spectrum antiparasitic: adulticide, larvicide and ovicide. Non- irritant. Maximum bioavailability.
Description:
Broad spectrum injectable internal antiparasitic for bovines (gastro-intestinal and pulmonary).
Formula:
Every 100 ml contains: Ricobendazole 15 grams; Auxiliary agents and vehicle q.s. .
Indications:
It is indicated for the treatment of infestations from nematodes: Haemonchus spp., Trichostrongylus spp., Strongylus spp., Ostertagia spp., Nematodirus spp., Cooperia spp, Bunostomum spp. and Dictyocaulus spp. in bovines.
Administration and dose:
Apply through SC route in front of, or behind, the shoulder blade.
The recommended dose is 1 ml every 40 Kg. of weight.
Do not inject more than 10 ml per application spot.
Restriction Period:
Dairy Bovines: 3 days
Beef producing bovines: 14 days.
Comparar