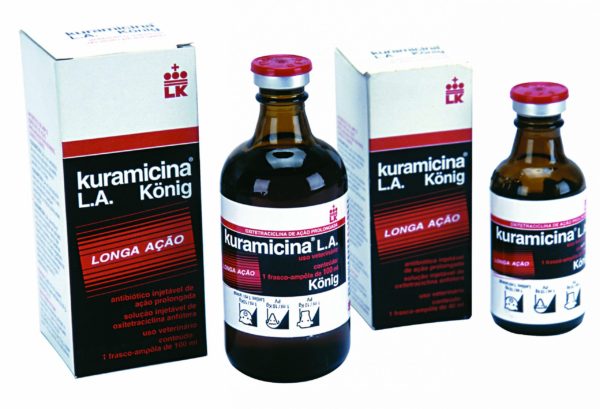 Kuramicina L.A.



Sterile Injectable Solution
Presentación:
Vial containing 40 ml, 100 ml and 250 ml.
Sustained Action. Bioavailability for 5 days. One single treatment is sufficient.
Description:
Immediate and Sustained Action Injectable Antibiotic
Formula:
Every 100 ml contains: oxytetracycline base (as an hydrochloride) 20 g, auxiliary agents and vehicle q.s..
Indications:
Preventive and curative/healing of infectious processes in general, caused by Gram-positive and Gram-negative bacteriae, mycoplasma, rickettsiae, chlamydiae of the lymphogranuloma psittacosis group, some protozoa and pathogenic fungi. Its use is indicated in bovines, ovines and porcines.
Very effective in keratoconjunctivitis (intrapalpebral) and the treatment of Campylobacteriosis in bulls.
For preventive purposes it is advisdable to treat all the animals of the group in which the disease occurred. The omission /failure to do so is the main cause of this therapy.
Administration and dose:
The dose for all the species is 200 mg of oxytetracycline for every 10 kilos of weight (1 ml every 10 kilos of weight) exclusively by IM route in the major muscular masses. In piglets whose weight is under 10 Kilos, the dose is a total of 1 ml, through IM or SC route, behind the pinna (outer ear) .
Both for the preventive and curative treatments, the indicated frequency is one single application, except if the condition were sufficiently serious as to warrant a second application in 3 to 5 days time.
Warnings:
In line with the total volume to be administered, the application should be carried out on two or more injection spots, not exceeding the following amounts per spot::
Bovines: Up to 20 ml per application spot. .
Ovines: Up to 5 ml per application spot.
Porcines: Up to 10 ml per application spot.
Comparar