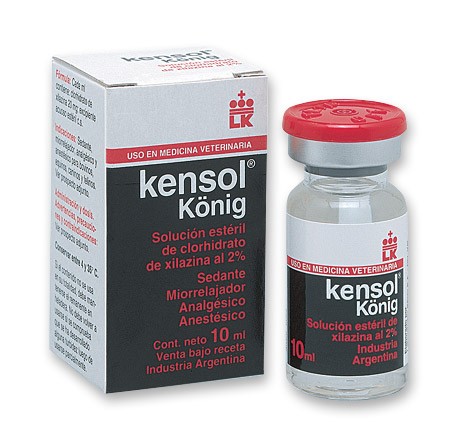 Kensol


Sterile Injectable Solution
Presentación:
Vial containing 10 ml.
Muscle Relaxant and Anesthetic Sedative.
Description:
Injectable muscle relaxant, analgesic and anesthetic sedative, for small and large animals.
Formula:
Every ml contains: Xilazine (as an hydrochoride) 20 mg; auxiliary agents and aqueous sterile vehicle q.s.
Indications:
Muscle relaxant, analgesic and anesthetic for use alone or in pre-anesthetic or anesthetic associations for containment maneuvers, major or minor surgery on all the domestic species.
Administration and dose:
Canines and felines:
For containment maneuvers and minor surgeries apply 1-3 mg/kilo of Xilazine (equivalent to 0,05-0,15 ml/kilo). The administration requires previous fasting of 6 to 18 hours and pre-medication with atropine or substitute.
It can also be used with Vetanarcol (Ketamine hydrochloride) and the doses to be applied vary according to the desired effects. In dogs under the effects of this association the palpebral reflex is positive and there is myosis, nistagmus and tearing, for which reason these reflexes cannot be considered as indicators of the depth of anesthesia. In cats a negative palpebral effect, midriasis occurs and, in this case, they do serve as indicators. For combination with barbiturates, use 0,5-1 mg/kilo of Xilazine (equivalent to 0,025 – 0,05 ml/Kilo) together with atropine, administered 20 minutes before the dose of barbiturates (1/4 of what is habitual). These should be administered very slowly and evaluating their effect. It can also be associated with Xilocaíne for minor surgeries.
Comparar