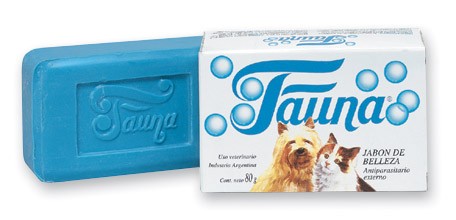 Fauna Soap


Soap Bar
Presentación:
Pack containing an 80-gram soap bar.
Beauty Soap. External Antiparasitic.
Description:
Ectoparasiticide and hygiene soap for canines and felines
Formula:
Every 100 grams contains: Amitraz 0,125 grams; Sulphur 2 grams and auxiliary agents q.s.
Indications:
Weekly bath for canines and felines, both for skins that are healthy or with problems. It has tick, flea and lice control action and anti-scabies/ mange (sarcoptic and demodectic scabies/ mange). It is an antiseborreic, antiseptic and keratolitic, thus eliminating both itch and unpleasant odor.
Administration and dose:
Wet hair with plenty of lukewarm water and massage vigorously, allowing the lather to act from 3 to 5 minutes and then rinse. Repeat the operation. In the case of flea and tick infestations, use weekly. For demodectic scabies/ mange it is advisable to bathe every 7 days during at least 2 months. In sarcoptic scabies/ mange, an interval of 4 days is recommended between baths and the duration of the treatment will depend on the seriousness of the condition. A period of 15 to 20 days is suggested as orientation.