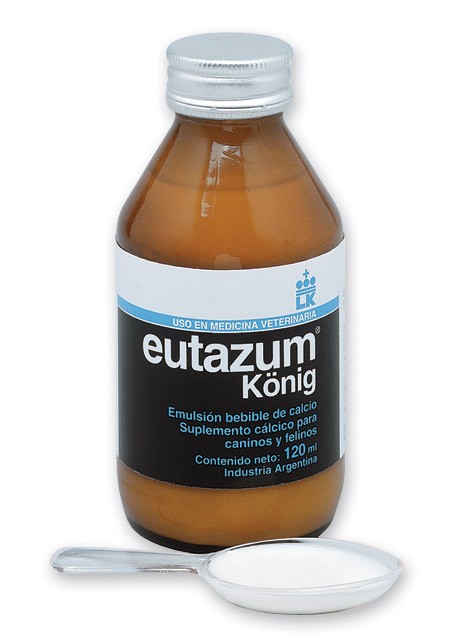 Eutazum


Suspension
Presentación:
Caramel color glass flask containing 120 ml with attached measurement corresponding to 5 ml.
High absorption calcium.
Description:
Oral suspension calcium supplement for small animals
Formula:
Every 100 ml contains: Calcium carbonate 10 grams; auxiliary agents q.s.
Indications:
Prevention of disorders associated to an increase in calcium demand during lactation, pregnancy and growth. Preventive and curative treatment of nutritional secondary hyperparathyroidism (treatment of generalized fibrous osteodystrophy) in growing animals, osteoporosis and spondylarthritis in adult and senile animals, teething disorders and hypocalcaemia.
Administration and dose:
As a prevention, administer one measure for every 5 kilos of weight per day.
As a curative administer 2 measures for every 5 kilos per day.
These doses are indicated as an orientation and may be changed according to the criterion of the veterinary doctor.
It may be administered directly or include it in milk or drinking water.