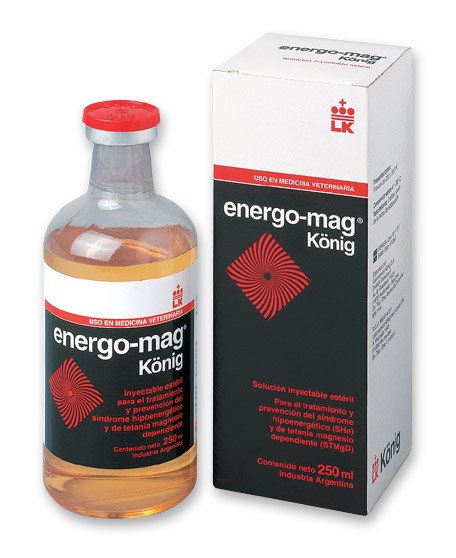 Energo-Mag


Sterile Injectable Solution
Presentación:
Vial containing 250 ml.
Controls hypomagnesaemia. Preventive and curative of fallen-cow syndrome.
Description:
Injectable mineral supplement for ovine and bovine cattle.
Formula:
Every 100 ml contains: Monohydrate Magnesium Carboxilate Pyrrolidone 60 grams; auxiliary agents q.s.
Indications:
As a preventive in roundups or flocks with previous hypo-energetic and/or hypomagnesaemia syndromes.
Its application is recommended when facing highly stressful situations: parasite elimination/de-worming, vaccinations, transport, weaning, storms, very cold climates/weather, winter pasture consumption, shearing, last one-third of gestation in sheep.
As a choice therapeutic approach in the treatment of combined metabolic disorders caused by a sudden alteration of the energetic and/or magnesium requirements in ruminants:
Bovines: grass tetanus, ketosis in milking cows, fat cow syndrome. Sheep: pregnancy toxemia and hypo-energetic syndrome in sheep.
Administration and dose:
Preventive dose:
Apply 1 to 1,5 ml for every 10 kilos of weight by SC route.
Curative dose:
Apply 2,5 ml for every 10 kilos of weight, divided into equal parts, applying half the dose by slow IV route and the other half by SC route.
Comparar