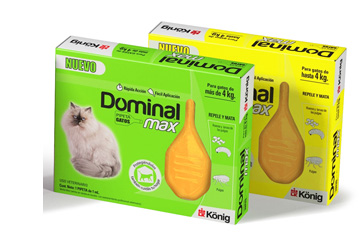 Dominal MAX Cats

External Solution.for Topical Use Environmental effect
Presentación:
Cats up to 4 Kilos: 0,5 ml Pipette; Cats exceeding 4 Kilos: 1 ml. Pipette
Topical action antiparasitic with environmental effect, for cats.
Description:
Dominal MAX Cats is a flea killer topical solution for cats with an additive environmental effect. Dominal MAX Cats contains Imidacloprid and Fenoxicarb. Imidacloprid is characteristic for its great dumping power, responsible for the elimination of 100% of fleas within 24 hours post-application. In addition, Fenoxicarb incorporates residual power due to an analogous action to that of the juvenile hormones of fleas, preventing maturity of eggs and larvae and eliminating same from the environment without resorting to additional products.
Dominal MAX protects from flea re-infestations.
Formula:
Every 100 ml. contains: Imidacloprid 8,0 grams; Fenoxicarb 0,5 grams; auxiliary agentes q.s.
Indications:
Dominal MAX Cats is destined to prevention and treatment of infestations through fleas and lice.
Administration and dose:
Remove the pipette from the pack. Maintain in a vertical position with the tip upwards, twist it with your fingers and break it off. Separate the animal´s hair at the nape of the neck and apply the total contents of the pipette directly onto the skin. Do not apply on kittens younger than two months old.
We hereby indicate the link where you will be able to find more information on the Dominal products
www.pipetadominal.com
We invite you to form parte of our community in Facebook: https://www.facebook.com/pipetadominal
Comparar