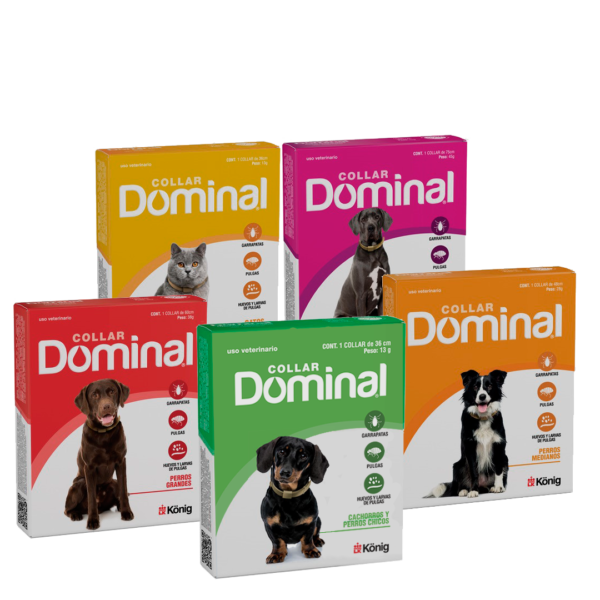 Dominal Collar


Plastic Matrix Collar
Presentación:
Dominal Collar for Pups: 13 grams collar; Dominal Collar for medium and small size dogs: 28,0 grams Collar; Dominal Collar for big dogs: 38,0 grams Collar; Dominal Collar for Cats: 13,0 grams Collar.
External anti-parasitic collar.
Description:
External anti-parasitic for canines and felines. The active substances are incorporated on the plastic matrix of the collar, in the form of micro-particles, that continuously migrate to the surface, maintaining their effectiveness in a sustained form for a period of 3 months.
Formula:
Every 100 grams contain: Propoxur 12,00 grams; Imidacloprid 5,00 grams; Fenoxicarb, 1,00 gram, auxiliary agents q.s.
Indications:
External anti-parasitic destined to the prevention and treatment of infestations from fleas, ticks and/or lice. The necessary dose is administered in line with the weight of the collar and the size of the animal. It is recommended that the collar be changed every 3 months.
Administration and dose:
Place the collar around the animal´s neck and secure it after adjusting it to measure. Leave a space for fingers to pass through, and so avoid the collar to be too tight or too loose. Cut off and discard the surplus piece.
In the case of growing animals take into consideration the growth of the aanimal and periodically adjust the collar.
Do not apply on pups or kittens under 2 months old. Do not use on pregnant bitches.
Take off the collar when bathing the animal and put it back on again when the animal is dry.
Comparar