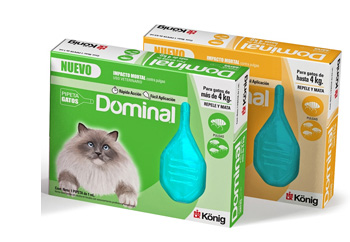 Dominal Cats

Solution For Topical External Use.
Presentación:
Cats up to 4 kilos: 0,5 ml pipette; Cats exceeding 4 kilos.:1-ml pipette.
Mortal impact against fleas.
Description:
Dominal Cats is a flea-control solution for cats that is applied topically.
Dominal Cats contains Imidacloprid, characterized for its high dumping power, responsible for the elimination of 100% of the fleas within 24 hours post application. Its rapid and effective adulticide and larvicide action interrupts the flea cycle, since same are eliminated before they start laying eggs. Dominal Cats protects from re-infestation from fleas.
Formula:
Every 100 ml contains: Imidacloprid 8 grams; auxiliary agents q.s.
Indications:
Dominal Gatos is destined to the prevention and treatment of infestations by fleas.
Administration and dose:
Remove the pipette from the pack. Maintain in vertical position with the tip/point upwards and twist/bend the tip with your fingers, breaking it off. Separate the animal's hair at the nape of the neck and apply the whole contents of the pipette directly on the skin.
Do not apply on kittens below 2 months old.
We include the link where you will find more information about the Dominal products: www.pipetadominal.com
We invite you to participate in our Facebook Community: https://www.facebook.com/pipetadominal
Comparar