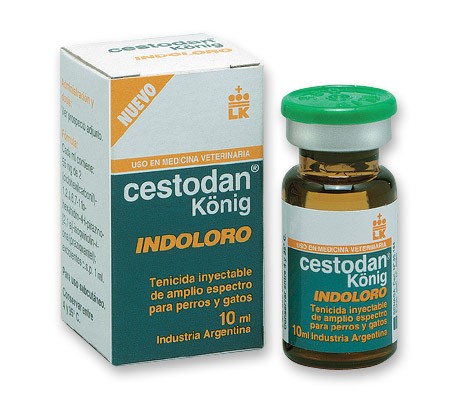 Cestodan Inyectable


Sterile Injectable Solution.
Presentación:
Vial containing 10 ml.
Exclusive total taenecide for parenteral use.
Description:
Painless, broad spectrum, injectable solution for cestode elimination, for canines and felines.
Formula:
Every 100 ml contains: Praziquantel 5,5 grams (equivalent to 55 mg in each ml); auxiliary agents q.s..
Indications:
Treatment of parasitic diseases caused by Echinococcus granulosus (Human hydatidosis agent), Echinococcus multilocuralis, Dipillydium caninum and tapeworms in general, in dogs and cats both during their mature and immature stages.
Administration and dose:
Apply 1 ml for every 10 Kilos of weight (equivalent to 5,5 mg per kilo of weight) exclusively through subcutaneous route, on the nape of the neck.
In animals whose weight exceeds 30 Kg., administer a maximum dose of 3 ml.
The treatment need not be repeated unless reinfestation conditions exist. Repeat every 30 to 45 days in areas endemic for hydatidosis.
It may be administered to pregnant bitches and she-cats. Repeat every 45 days in areas endemic for hydatidosis.
Do not use on pups under four weeks old nor on kittens under six weeks old.
Comparar