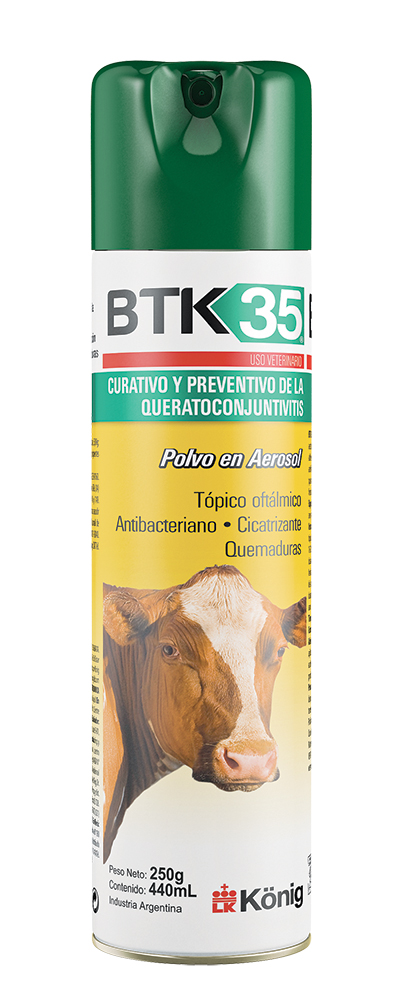 BTK 35






Aerosol Spray
Presentación:
Aerosol Spray containing 440 ml
Topical Ophthalmic.
Kerato-conjuntivitis healing and preventive agent. Total action bactericidal, fungicidal and viricidal.
Anti-inflammatory.
Description:
Antibacterial and anti-inflammatory and for small and large animals. Quick disinfection and healing of any types of wounds and burns. Specific treatment against kerato-conjunctivitis.
Formula:
Every 100 grams of concentrate contains: Oxytetracycline (as hydrochloride) 5,00 grams; Silver Sulphadiazine 0,85 grams; Hydrocortisone Acetate 0,29 grams; auxiliary agents q.s..
Indications:
Antibacterial, anti-inflammatory, topical use steroid. Healing properties.Treatment of infectious kerato-conjunctivitis, skin conditions, eczemas, burns, surgical or accidental wounds, fistulas and oozing in general.
Administration and dose:
Shake the container strongly and apply locally at a distance distance of15 to 20 cm., spraying until a thin, uniform and yellowish layer is formed on the affected area. Repeat the treatment every twelve hours. The duration of the treatment depends on the type of condition and wound complications; it is advisable to continue the treatment until a cure is achieved.
In the case of bovine kerato-conjunctivitis and conjunctivitis in general, apply on both eyes every twelve hours during 3 to 5 days. Clean wounds carefully and apply every 12 hours.