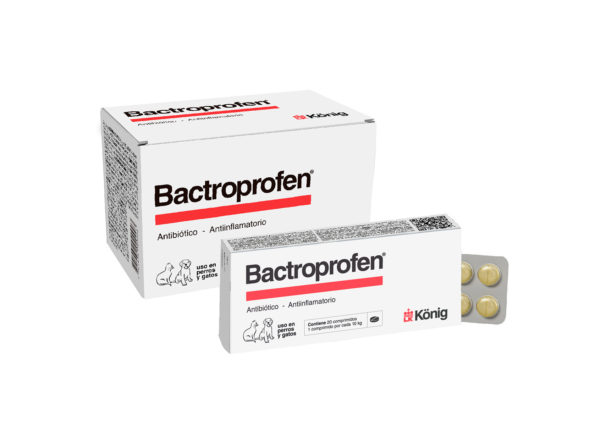 Bactroprofen


Tablets
Presentación:
Box containing 30 and 130 Tablets
The bacteriostatic-bactericide antibiotic that penetrates the infectious site/focus.
Description:
Oral administration antibiotic, anti-inflammatory steroid, for dogs and cats. This is a formula that combines the added synergic antibiotic effect of Tetracycline and Chloramphenicol with the anti-inflammatory and antipyretic action of prednisolone.
Formula:
Each tablet contains: Tetracycline hydrochloride 90 mg; Chloramphenicol 90 mg; Prednisolone base 2 mg, auxiliary agents q.s. 300 mg.
Indications:
Treatment of infectious processes, in general, with antibiotic, anti-inflammatory and analgesic action, for canines and felines.
It may be used in internal medicine (bacterial complications of viral infections, leptospirosis, localized or general acute infections etc.), surgery (profilaxis of post-surgical complications in major or minor surgeries or in their treatment), urology (acute, sub-acute and chronic infections of the urinary tract, prevention of infections consecutive to urethral sounding-out), obstetrics and gynecology (chronic endometritis, endometriosis, vaginitis, etc.), otolaryngology (otitis, sinusitis, rinitis, pharingitis, laringitis, etc.), odontology (extraction of dental pieces, pyorrhea, dental fístulae, etc.), neumonoloy (infectious bronchial and lung diseases, tracheitis, tracheo-bronchitis), gastroenterology (bacterial enterocolitis associated to diarrheic or dysentery situations), traumatology (exposed fractures, etc.), dermatology (pustulous dermatitis, infected wounds or those in danger of contamination, etc.)
Administration and dosage:
Administer one tablet per every 10 kilos of weight every twelve hours. This dose may be/should be doubled when facing serious infection, with high inflammatory component. The duration of the treatment will depend on the evolution of the episode and is left to the veterinarian's criteria; a duration of not less than 7 days is recommendable. The treatment should extend up to 48 hours after the fever disappears.
The tablets may be administered, whole or disintegrated, with palatable food if it is desired to facilitate ingestion.