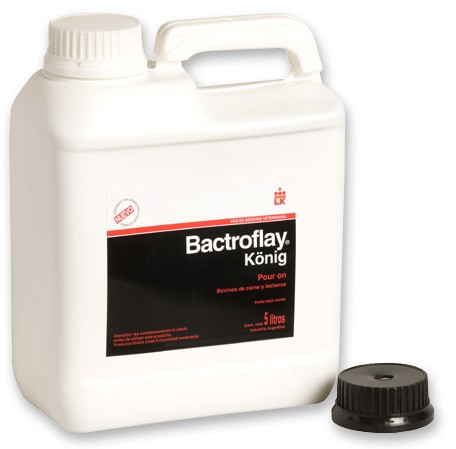 Bactroflay Pour On

Pour On
Presentación:
Drums containing 1and 5 liters.
External antiparasitic. Excellent residual power.
Description:
External Pour-on Parasitic without any restriction regarding milk and minimum restriction regarding beef. Excellent residual power
Formula:
Every 100 ml. contains: Etión 15 grams; Cypermethrin 5 grams; excipient and vehicle q.s..
Indications:
Control and treatment of infestations caused by Haematobians irritans infestations (horn fly) in bovines.
Administration and dose:
Apply on the dorsal midline, from withers to rump. There should be a 50-days interval between applications.
Calves from 100 to 200 Kilos.: 5 ml.
From 200 to 400 kilos: 10 ml.
Exceeding 400 kilos: 20 ml.
Waiting time:
Dairy cattle: 6 hours
Beef Cattle: 6 days
The restriction corresponds to Cypermethrin according to Senasa Resolution Nº 1343/93.
Comparar