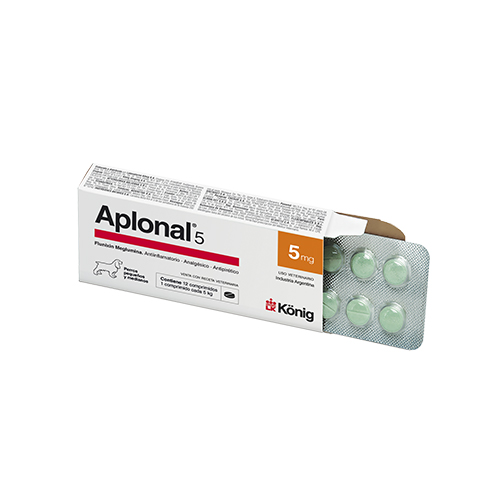 Aplonal 5 mg

Tablets
Presentación:
Pack containing 12 tablets
The maximum strength non-steroidal, anti-inflammatory, analgesic and antipyretic for ambulatory treatment.
Description:
Oral administration, non-steroidal anti-inflammatory, analgesic and antipyretic, for dogs with a strength, equivalent to morphine.
Formula:
Each tablet contains: 8,3 mg of Flunixin: Meglumine: (equivalent to 5 mg de Flunixin base) and auxiliary agents q.s. for 300 mg.
Indications:
Relief of pain and inflammation forthcoming from any origin, specially post-traumatic and post-surgical pain of skeletal muscle in dogs.
Administration and dose:
Oral administration: 1 tablet per every 5 kilos of weight (equivalent to 1 mg of Flunixin per kilo of weight), every 24 hours, during a maximum period of 3 consecutive days, preferably with food/meals.
In chronic cases, alternate three days of treatment with four days without medication over a maximum period of 3 months.
Should not be administered to cats.
Do not administer to bitches during gestation.
Comparar